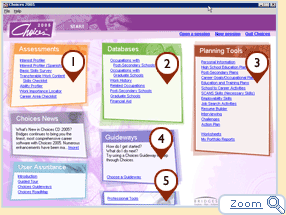 Choices
®
CD Edition gives students everything they need to build powerful education and career plans for the future.
Validated Assessments,
extensive Databases and
Planning Tools work together, with step-by-step assistance from Choices'
Guideways, to connect students' interests and skills with relevant occupations, college majors and school information.
Professional Tools provide the resources needed to implement, measure and report student success and customize Choices CD Edition to meet your program needs.